NYTT 26 Sept 2018
https://www.eventbrite.com/e/op-engine-symposium-tickets-48711800306
Högst troligen kommer de att visa upp en F-150 som är körbar då. Sedan kommer det att följa produktion snart efter.
En F-150 som klarar 0,63 liter/mil
Those numbers, if substantiated in real-world testing, would make the Achates engine a revolutionary powerplant for full-size and light-duty pickups, which today average around 21 mpg.
https://www.trucks.com/2018/01/15/detroit-auto-show-achates-aramco-pickup-engine/
Med diesel så är den ännu bättre
In its diesel configuration, the same 2.7-liter, three-cylinder opposed-piston engine being demonstrated in the Achates-Aramco pickup would deliver 42 mpg, Johnson told Trucks.com.
http://achatespower.com/wp-content/uploads/2015/12/Achates-Power-Light-Duty-Demonstrator-Truck-Announcement-1.pdf
Den verkar dock STOR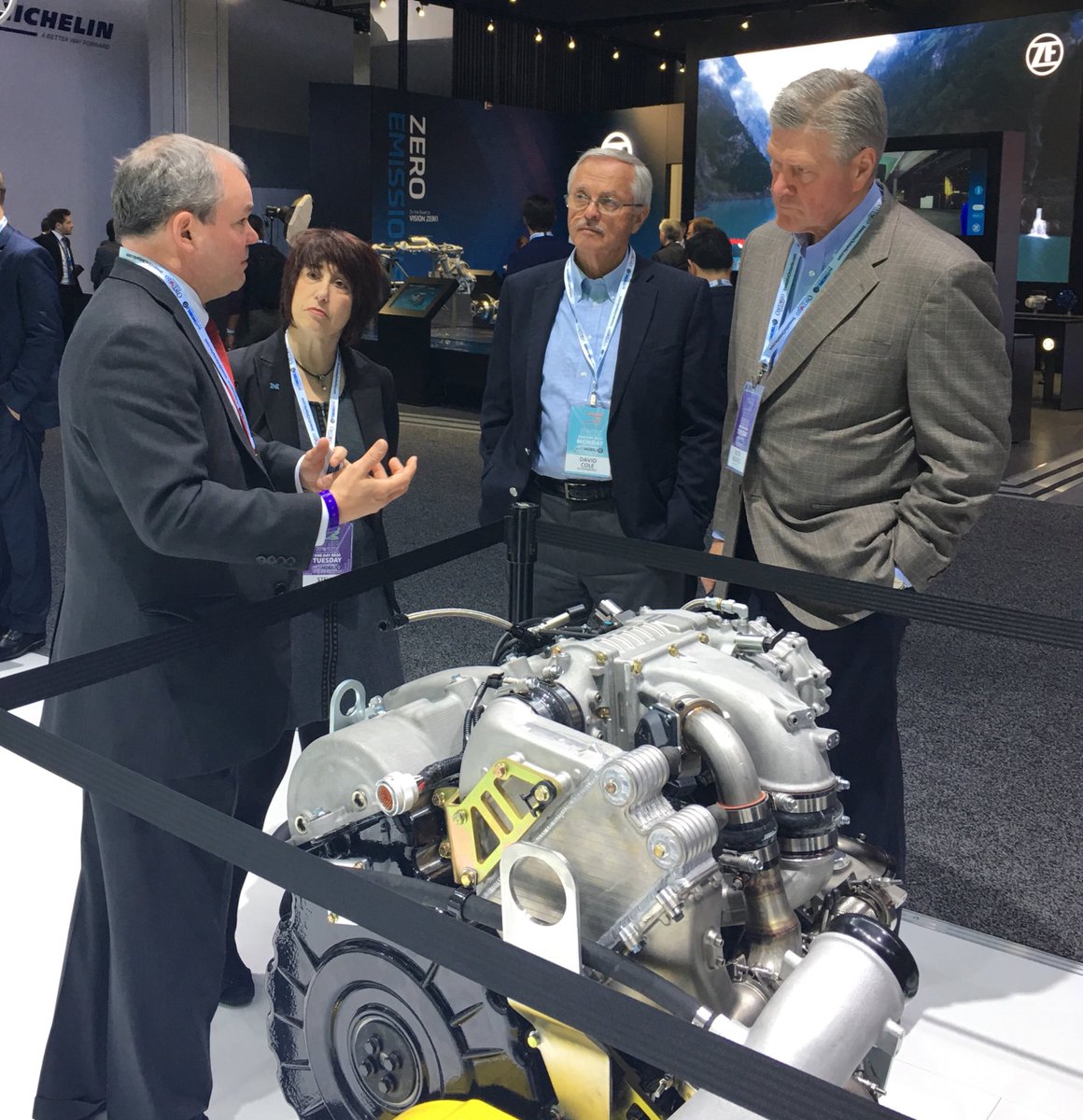 Men går in i motorrummet på en F-150
http://articles.sae.org/15843/
Och mina damer och herrar
Det är Sintercast CGI i blocket. Det kommer att formligen explodera tror jag när det gått in i medvetandet hos de som designar bilar.
Varför inte ha en motor som är.
Lättare
Mindre antal delar
Billigare att tillverka
Mer hkr /kg
Mycket renare än dagens förbränningsmotorer
Mycket lägre bränsleförbrukning ( 0.66-0.5 l per mil) beroende på val av bränsle
Det finns säkert mera. Sintercast är som sagt väl med på på vagnen. Det kommer att ske mycket när nu kunderna till de stora tillverkarna fått vittring på dessa supermotorer. Den som kommer först bland de tre kommer att få massor av kunder.
Den 18  jan 2018 kom
detta
https://sintercast.com/$-1/file/dokument/2017/2018/NAIAS-2018-Swedish.pdf
Vid NAIAS, avtäckte Achates Power sin motkolvsmotor där bensinen antänds via kompression. Motorblocket är baserat på kompaktgrafitjärn. I en Ford F-150 demonstrationspickup bedöms motorn dra 7.6 liter per 100 km, vilket är under 2025-års krav på 8.8 liter per 100 km för fullstora pickuper. Achates uttalade att motkolvsmotorn på 2.7 liter har 30-50 % förbättrad bränsleekonomi gentemot jämförbara bensin- eller dieselmotorer och att teknologin kommer att vara tillgänglig för kunder inom en nära framtid.
"SinterCast har identifierat dieselmotorn som ett viktigt bidrag för bränsleekonomi och körbarhet inom det nordamerikanska pickupsegmentet redan för tio år sedan. Idag är dieselmotorer tillgängliga i fyra av de fem fullstora pickuper på den amerikanska marknaden vilket bekräftar vår tidiga bedömning och bekräftar den moderna dieselmotorns roll som en viktigt dellösning i förbättrad bränsleekonomi och reducerade CO2- utsläpp." säger Dr. Steve Dawson, President & CEO för SinterCast. "
Vi gratulerar även Achates för sina fina  framgångar med motkolvsmotorn i demonstrationspickupen. Vi är nöjda med att ha givit stöd till det initiala
utvecklingsarbetet hos Achates och vi ser fram emot att fortsätta att stödja deras marknadsutveckling."
Mumma