Ny info från aug 2018 längst ner………och från aug 2019 ännu längre ner
och lite till ännu längre ner som kan ha bäring på GM
Jag trodde att den skulle komma i CGI för ett år sedan men så blev det inte. I USA har det dykt upp flera kommentarer i kölvattnet av Cummins nya CGI motor ( mer om denna senare i texten) om varför GM inte tog steget fullt ut vid deras uppgradering i höstas och valde CGI i blocket. Det undrar jag också varför de inte gjorde. I och med Cummins nu går över till CGI så står GM nog inför ett byte eftersom deras gråjärnsmotor inte lär tåla ännu en uppgradering. Sintercast gjorde ett uttalande i samband med den motorn och om varför den inte kom i CGI.
Sintercast skrev om detta på sin sida.
SinterCast has a good rapport with the Duramax design team.  We wish them success with their new upgrade and welcome the opportunity to work together with them at some stage in the future.
http://www.sintercast.com/investor/ask-the-president#faq
"Some stage in the future" kan redan vara här.
————————
Duramax med 445 hkr slår alltså Ford på nosen med dess 440 hkr. Samma varvtal 2800 rpm på båda.
MEN nu aviseras en ny marknadsledare när kommer Cummins med sin nya motor och med CGI-block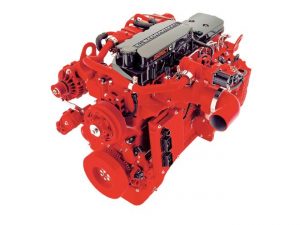 https://5thgenrams.com/community/threads/2020-ram-cummins-to-get-a-cgi-block.482/#post-5690
Cummins som alltså har en rak motor med mindre behov av CGI kommer alltså ändå att uppgradera denna för att återta ledartröjan. Vad tror ni då Duramaxteamet som har ett gott samarbete med Sintercast gör när de redan gjuter sin motor hos Halberg Guss som ju har två CGI-anläggningar från Sintercast ? Det ligger nära till hands att de kommer med en replik i CGI
Fords Super Duty 6.7 l är än så länge värst med sina 925 lb/ft i vrid men det toppar vid 1800 rpm mot Duramaxens 1600 rpm.
Vi jämför en del motorer                 hkr      hkr /l    vridmoment lb/ft       vrid i lb/ft/l
Cummins raka 6.7 l                           385        57              850                   126
Nya Cummins  ( ca-siffror)             450       67           980-1000          149
Nya Duramax 6.6 l                            445         67              910                    138
gamla Duramax 6.6 l                        397         60              765                   116
nya Ford PS 6,7 l  med CGI               440         66              925                   138
första PS 6,7 l med CGI år 2010      390           59            735                    110
Summering
Cummins nya motor ser ut att bli ett monster på att dra släp med sitt särklassiga vrid. Det är möjligt att de stannar strax under 1000 lb/ft men det är betydligt värre än de andra ändå.
Om Duramaxen kommer med en replik så talar vi om ca 600.000  ekvivalenter eftersom ett block väger 150 kilo och det tillverkas ca 200.000 om året. Det är ungefär samma som Cummins har.
Ny info från aug 2018
Det strejkas på Neue Halberg Guss och detta har orsakat att en beställare som troligen är GM har lagt en fortsättningsorder på 200.000 årliga block utanför Halberg.
http://naaju.com/germany/new-attempt-at-unification-at-automotive-supplier-halberg-guss/
A quasi-secure tracking order for the US of over 200,000 engine blocks per year until 2024 will no longer be assigned to NHG.
En uppföljningorder i CGI från den tidigare i gråjärn är vad jag tror. Det är troligen därför att GM lade ner sin produktion av dessa block i Defiance för att börja på Halberg och stilla glida över till CGI.
Mycket intressant.
Redan för sex år sedan  påstår en tittare att detta är ett Duramxblock som Makino bearbetar
That's a duramax engine.. Where was this?
AUG 2019
The larger sum of money from the DOE will go toward research of a "low-mass and high-efficiency" engine for medium-duty trucks. GM"s stable of medium-duty trucks currently includes the Chevrolet Silverado 4500HD, 5500HD and 6500HD. These Class 4, 5 and 6 trucks boast a 6.6-liter Duramax diesel V8 engine. Clearly, GM is banking on its medium-duty truck line after it was absent from the segment for years.
https://www.cnet.com/roadshow/news/general-motors-solid-state-battery/
Då snackar vi om volymer….
Nya material
5: NEW MATERIALS AND ENGINE TECHNOLOGIES FOR HIGH EFFICIENCY POWERTRAINS General Motors LLC Pontiac, MI Low Mass and High Efficiency Engine for MediumDuty Truck Applications $7,007,878
https://www.energy.gov/sites/prod/files/2019/08/f65/FY19%20VTO%20selections%20table-for%20release_updated_0.pdf
---
Ny order på gång till Sintercast
https://mb.cision.com/Main/15118/2889550/1097253.pdf
Detta gjuteri har GM som stor kund………