Ny info från aug 2018 längst ner………och från aug 2019 ännu längre ner
och lite till ännu längre ner som kan ha bäring på GM
och hetast ännu längre ner från 2021
Jag trodde att den skulle komma i CGI för ett år sedan men så blev det inte. I USA har det dykt upp flera kommentarer i kölvattnet av Cummins nya CGI motor ( mer om denna senare i texten) om varför GM inte tog steget fullt ut vid deras uppgradering i höstas och valde CGI i blocket. Det undrar jag också varför de inte gjorde. I och med Cummins nu går över till CGI så står GM nog inför ett byte eftersom deras gråjärnsmotor inte lär tåla ännu en uppgradering. Sintercast gjorde ett uttalande i samband med den motorn och om varför den inte kom i CGI.
Sintercast skrev om detta på sin sida.
SinterCast has a good rapport with the Duramax design team. We wish them success with their new upgrade and welcome the opportunity to work together with them at some stage in the future.
http://www.sintercast.com/investor/ask-the-president#faq
"Some stage in the future" kan redan vara här.
————————
Duramax med 445 hkr slår alltså Ford på nosen med dess 440 hkr. Samma varvtal 2800 rpm på båda.
MEN nu aviseras en ny marknadsledare när Cummins kommer med sin nya motor och med CGI-block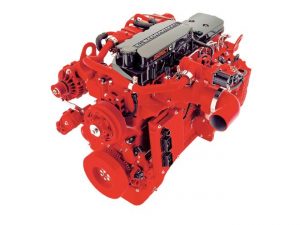 https://5thgenrams.com/community/threads/2020-ram-cummins-to-get-a-cgi-block.482/#post-5690
Cummins som alltså har en rak motor med mindre behov av CGI kommer alltså ändå att uppgradera denna för att återta ledartröjan. Vad tror ni då Duramaxteamet som har ett gott samarbete med Sintercast gör när de redan gjuter sin motor hos Halberg Guss som ju har två CGI-anläggningar från Sintercast ? Det ligger nära till hands att de kommer med en replik i CGI
Fords Super Duty 6.7 l är än så länge värst med sina 925 lb/ft i vrid men det toppar vid 1800 rpm mot Duramaxens 1600 rpm.
Vi jämför en del motorer hkr hkr /l vridmoment lb/ft vrid i lb/ft/l
Cummins raka 6.7 l 385 57 850 126
Nya Cummins ( ca-siffror) 450 67 980-1000 149
Nya Duramax 6.6 l 445 67 910 138
gamla Duramax 6.6 l 397 60 765 116
nya Ford PS 6,7 l med CGI 440 66 925 138
första PS 6,7 l med CGI år 2010 390 59 735 110
Summering
Cummins nya motor ser ut att bli ett monster på att dra släp med sitt särklassiga vrid. Det är möjligt att de stannar strax under 1000 lb/ft men det är betydligt värre än de andra ändå.
Om Duramaxen kommer med en replik så talar vi om ca 600.000 ekvivalenter eftersom ett block väger 150 kilo och det tillverkas ca 200.000 om året. Det är ungefär samma som Cummins har.
Ny info från aug 2018
Det strejkas på Neue Halberg Guss och detta har orsakat att en beställare som troligen är GM har lagt en fortsättningsorder på 200.000 årliga block utanför Halberg.
http://naaju.com/germany/new-attempt-at-unification-at-automotive-supplier-halberg-guss/
A quasi-secure tracking order for the US of over 200,000 engine blocks per year until 2024 will no longer be assigned to NHG.
En uppföljningorder i CGI från den tidigare i gråjärn är vad jag tror. Det är troligen därför att GM lade ner sin produktion av dessa block i Defiance för att börja på Halberg och stilla glida över till CGI.
Mycket intressant.
Redan för sex år sedan påstår en tittare att detta är ett Duramaxblock som Makino bearbetar
That's a duramax engine.. Where was this?
————————
Nu i sept 2021 kommer uppgifter om en ny Duramax med 505 hkr för modellåret 2023 och alltså i början av nästa år.
Dessa uppgifter finns på tfltruck.com den 13 sept
EXCLUSIVE: 2023 Chevy Silverado HD Will Pack an Updated Duramax V8 with Over 500 HP and This Monstrous Torque Number
This unofficial report says that the next generation of the 6.6-liter turbo-diesel Duramax V8 will be rated at 505 horsepower and 1,085 lb-ft of torque. Naturally, these figures may change by the time the 2023 Chevy and GMC heavy-duty trucks hit the market. These numbers seem very plausible because they would put GM's big diesel V8 into a leadership position for the segment
Competition
Here are the big diesel numbers for the 2022 model year from Ford and Ram.
The latest 6.7-liter Power Stroke V8 diesel from Ford is rated at:
475 hp @ 2,600 rpm and 1,050 lb-ft of torque @ 1,600 rpm.
The latest high-output 6.7-liter Cummins I6 diesel from Ram is rated at:
420 hp @ 2,800 rpm and 1,075 lb-ft of torque @ 1,800 rpm.
---
Current Duramax V8 (L5P)
The current L5P 6.6-liter Duramax V8 was introduced in the 2017 model year with a very respectable 445 hp @ 2,800 rpm and 910 lb-ft of torque @ 1,600 rpm. For the 2020 model year and the new generation of GM's heavy-duty pickups – the company introduced the new 10-speed (10L1000) Allison-branded automatic transmission.
The unofficial report also states that the automatic transmission and the read differential are also getting an upgrade for 2023 to handle more power and torque. GM may be going for a larger diameter ring gear for the rear differential.
Nuvarande motorer inom HD segmentet
| Vehicle | Engine | Fuel Type | Aspiration | Valvetrain | Horsepower (hp @ rpm) | Torque (lb-ft @ rpm) |
| --- | --- | --- | --- | --- | --- | --- |
| 2021 Chevy Silverado HD | 6.6L L8T V8 | Gasoline | Atmospheric | OHV 16-valve | 401 @ 5,200 | 464 @ 4,000 |
| 2021 Chevy Silverado HD | 6.6L Duramax L5P V8 | Diesel | Turbocharged | OHV 32-valve | 445 @ 2,800 | 910 @ 1,600 |
| 2021 Ford Super Duty | 6.2L Boss V8 | Gasoline | Atmospheric | SOHC 16-valve | 385 @ 5,750 | 430 @ 3,800 |
| 2021 Ford Super Duty | 7.3L Godzilla V8 | Gasoline | Atmospheric | OHV 16-valve | 430 @ 5,500 | 475 @ 4,000 |
| 2021 Ford Super Duty | 6.7L Power Stroke Scorpion V8 | Diesel | Turbocharged | DOHC 32-valve | 475 @ 2,800 | 1,050 @ 1,600 |
| 2021 GMC Sierra HD | 6.6L L8T V8 | Gasoline | Atmospheric | OHV 16-valve | 401 @ 5,200 | 464 @ 4,000 |
| 2021 GMC Sierra HD | 6.6L Duramax L5P V8 | Diesel | Turbocharged | OHV 32-valve | 445 @ 2,800 | 910 @ 1,600 |
| 2021 Ram HD | 6.4L HEMI V8 | Gasoline | Atmospheric | OHV 16-valve | 410 @ 5,600 | 429 @ 4,000 |
| 2021 Ram HD | 6.7L Cummins I6 | Diesel | Turbocharged | OHV 24-valve | 370 @ 2,800 | 850 @ 1,700 |
| 2021 Ram HD | 6.7L Cummins I6 HO | Diesel | Turbocharged | OHV 24-valve | 420 @ 2,800 | 1,075 @ 1,800 |
---