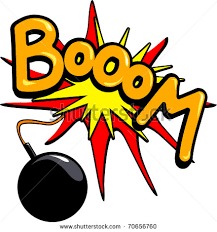 en BOMB slog ner i USA på NAIAS
AT LEAST ONE AUTOMAKER PLANS TO PRODUCE AN OPPOSED-PISTON ENGINE
http://www.motortrend.com/news/at-least-one-automaker-plans-to-produce-an-opposed-piston-engine/
But the bigger bombshell was his announcement that of the nine automakers who have signed on as development partners, at least one of them has begun tooling up to build an opposed-piston engine in volume.
google
Men en större bomb var hans uttalande om att av de nio biltillverkare som har undertecknat på som utvecklingspartners, åtminstone en av dem har börjat utrusta för att bygga en motkolvsmotor i volym.
Detta fick mig att dubbelkolla med den aktuella reportern på Motortrend Frank Marcus,  varför han var den ende som verkar ha uppfattat dessa sensationella uppgifterna och hans svar kom att dels var han tidig och fick svar på lite frågor innan alla hade anlänt och ang denna frågan om att minst en av de nio kontrakterade redan satt igång med verktygsförberedelser inför serieproduktion att eftersom han insåg vilken bomb detta vara så bad han Achates VD Johnson upprepa  svaret.
"He was asked to repeat that phrase!
nu även på Wards Auto och då får man anse detta som helt säkerställt.
Achates: Opposed-Piston Engine Makers Tooling Up
That research program has yielded a 2-stroke 3-cyl. (6-piston) engine that Achates will install in two demonstration vehicles later this year. Images of the two test vehicles on a Powerpoint presentation suggest one vehicle is a Ford F-150 and the other a Chevrolet Suburban.
"The reason we went after those vehicles and targeted this product is they have the greatest need for fuel efficiency improvement, and they sell in tremendous volumes in this country," Johnson says.
Tillägg:
Nu har Wards ändrat på tidtabellen och de skriver nu:
"But sooner, early next year, customers will be able to drive the first diesel demo vehicle,
which will meet CAFE 2025, Tier 3, LEV III and Euro 6 emissions requirements, Johnson
says. Images of a debadged 
Ford
 F-150 and Chevrolet Suburban on an Achates Powerpoint
presentation suggest the target market."
Håller detta med ett år tills premiären är det bra nog. Ett år går fort närt man väntar på något gott.
——–
Kommentar
När Achates visar upp dessa fordon under början av nästa år ( kanske det blir bra med NAIAS?) så blir det ytterst svårt för två av de tre stora att avstå från att inte hoppa på vagnen och jobba stenhårt för att kunna införa tekniken på studs. Hur skall de kunna försvara inför sina kunder att de inte genast kommer med motorer som är 1000-1500 $ US billigare, har mer vridmoment än t ex Fords Ecoboost 2,7 l V6 som finns i F-150 , kan tillverkas i befintliga transferlines med normalt utbyte av verktyg, är renare och uppfyller redan CAFE och EPA för 2015. O s v.
Det blir inte alls trovärdigt att inför myndigheterna hävda att avgasgränsvärdena är för tufft satta för att de skall kunna klara av det innan 2025,
Ett smart drag av Achates.
Om man jämför med EcoMotors som antagligen legat före i utvecklingen av själva motorn så är det stora skillnaden mellan bolagen att Achates inriktar sig på de befintliga fordonen på marknaden eftersom de har sin motor på höjden, bara att byta ut,  medan Ecomotors motor ligger ner och till denna krävs det specialbyggda fordon. Det uppkommer en klart förlängd tidsaxel i och med detta. EcoMotors kommer sannolikt också men den kräver som sagt speciella fordon.
 ————————–
De kommer att visa sin nya 2,7 l 3 cyl OPOC-motor på NAIAS  i jan 2018 och senare under året kommer denna motor sitta i ett antal testfordon.
CGI är det i blocken eftersom någon annat inte håller om man kör självantändning genom kompression med bensin. Achates hade till en början aluminium i blocken men man övergick så till CGI.  Det blir ett häftigt tryck. Samtidigt när man nu kör med bensin så blir avgaserna renare och man räknar med att denna motorn är ca 1000 US dollars billigare än en motsvarande med traditionell teknik.
Billigare, lättare, mindre, effektivare, renare och kräver runt 0,5 l /milen i en mindre truck som har 270 hkr och hela 650 Nm, Det  kallar jag vrid.
titta på denna sidan
http://www.greencarcongress.com/2017/01/20170113-achates.html
Att den har CGI står här
http://achatespower.com/wp-content/uploads/2015/04/MTZ_2014_Final.pdf
på sid 8 kan man läsa
Multi-Cylinder Modular Development Engine The A48-3-16 shares most of the power cylinder with the A48-1 and in an effort to reduce the development schedule, many components are compatible. Similar to the A48-1, the A48-3-16 is designed for a peak cylinder pressure of 200 bar with overload conditions of 220 bar. The block was cast from compacted graphite iron (CGI).
---
I en intervju i juni 2016 så sade Sintercast VD Dawson så här om CGI och dess utvecklingsmöjligheter
Q: What are the growt markets for CGI?
Dawson: "Commercial vehichles and industrial power applications are obvious growt opportunitiies for CGI."———-"We are also supporting the development of other small displacement diesel with 100 hp/l, and many of the new horizontal opposed-piston engines have specified CGI for the block and/or liner. "
—————–
Nytt i jan 2017
http://www.prnewswire.com/news-releases/achates-power-announces-plan-to-build-a-light-duty-truck-engine-that-exceeds-cafe-2025-regulations-300389372.html
De nya kraven 2025 blir tuffa om man inte övergår till ny teknik. En lägre halt av CO2 KRÄVER en lägre förbrukning. CO2  kan inte renas bort utan är direkt avhängig av mängden förbränt bränsle.
http://www.autonews.com/article/20170116/OEM06/301169951/epa-move-could-set-up-new-fight-over-co2
Opposed-piston engine could get there without breaking the bank.
http://www.thedetroitbureau.com/2017/01/new-achates-engine-design-could-double-mileage/comment-page-1/#comment-559541
Denna reportern kom enligt uppgift lite sent till träffen,,,,,,,,,,,,så han fick inte del av bomben om produktionsförberedelser.
http://www.hybridcars.com/achates-opposed-piston-engine-promises-37-mpg-for-full-size-pickups/
"We do have customers that are working on production plans for our Opposed-Piston Engine, but that would be an announcement that we would leave to our customers to make."
Jag tycker det hörs som om den är på gång rätt så snart.
Läs även
http://www.wian.se/2016/03/achates-tidigarelagger-sin-opoc-motor-till-2018/
---
Marknadens reaktion på dessa goda uppgifter då ?
I stort sett ett fnys och en ökande misstänksamhet samt flera som skriver att " vi skall få en PR från Sintercast först om detta"
Man menar alltså att Sintercast kan gå ut med en PR som vare sig innehåller namnet på tillverkaren, volymen av den kommande produktionen och därmed de förmodade intäkterna och något annat av betydelse. Achates får ju inte säga något och varför skulle Sintercast som står längst ner i kedjan få säga något?  Man kommer dock säkert att hävda att när detta väl kommer i en PR så är det redan intecknat i kursen som legat på samma nivå under tre år.
Man inser tydligen inte att detta kan vara det enda sättet för OEMs att kunna uppnå den nya avgasstandarden i USA där inte bara det enskilda fordonet granskas utan genomsnittet på resp fordonsflotts bränsleförbrukning skall vara bättre än ca 0,87 liter. Att då ha en OPOC-motor i sin flotta som drar en lätt truck med en förbrukning av bara 0,7 l/m i blandad körning är mycket värt.
CAFE 2025
Additionally, each manufacturer must meet a minimum standard of the higher of either 27.5 mpg for passenger automobiles or 92% of the projected average for all manufacturers.
Detta innebär att det är guld att ha en så stor del  av flottan som möjligt med OPOC-motorer. Detta för att kunna fortsätta med de törstigare motorprogrammen till viss del.
VD Johnson lägger en hög ribba
For his part, however, Achates CEO Johnson is entirely upbeat. After years of development, he insists that the OPE will soon be ready to move from the research lab to the street, and that in the near future, "Any vehicle that has an internal combustion engine today will use this engine."
———————–
Omställningskostnaden är extremt låg
Also note that the Achates design requires only minimal retooling of existing engine plants.
http://www.autoguide.com/auto-news/2017/01/new-engine-design-could-boost-efficiency-by-50-percent.html
Full-size diesel pickup truck that gets 37 mpg? Achates says yes
http://www.greencarreports.com/news/1108443_full-size-diesel-pickup-truck-that-gets-37-mpg-achates-says-yes
Det finns fortfarande en del som inte tror att man har ens en prototyp klar. Denna motorn var i drift för  sex år sedan. Den hade då gått i testbänkar under 1200 timmar.  2016 var denna siffra 7000 tim.
http://www.autoguide.com/auto-news/2017/01/new-engine-design-could-boost-efficiency-by-50-percent.html
http://papers.sae.org/2017-26-0056/
http://achatespower.com/wp-content/uploads/2016/10/2016-01-1019.pdf
Analys
Håller OPOC motorn vad den lovar med ca 37 mpg i en vanlig truck så kan ett snabbt införande av OPOC-motorer jämna marken för att olika OEMs skall klara CAFE målet för 2025 som är över 50 mpg inom den hela resp produktionen. Att elbilar skulle ta mer än 10 % och bränslecellsbilar 10 % anses inom branschen som rätt så orealistiskt. Då återstår 80 % som skall klara sig på ett snitt på 40 mpg. OPOC kan klara 37 mpg.
Låt oss säg att el och bränsleceller tar 25 % av marknaden och de tillsammans med hybrider totalt tar 40 % av marknaden och dess hybrider ligger runt 50 mpg så återstår 60 % av marknaden som skall klara sig på ett snitt runt 30. För att kunna köra de nutida motorerna krävs minst 25 mpg och då behöver man dela upp det på hälften av OPOC motorer som klarar 35 mpg.
Då skulle det kunna se ut såhär bland dagens 80 milj årliga fordon. Det är beräknat att stiga till 100 milj år 2020 men jag ligger lågt och tar dagens antal. Du kan ju lägga till 25 % om du vill.
https://www.statista.com/statistics/200002/international-car-sales-since-1990/
El och bränsleceller                                       20 milj om året( det är nog i överkant)
Hybridfordon                                                 12 milj (det finns bud på små block i CGI)
Traditionella motorer bensin och diesel    24milj (ökande andel med CGI)
OPOC                                                                24 milj ( alla verkar välja CGI i blocken)
Kina hoppas att tillverka 5 milj EV om året 2020. Total tillverkas 80 milj motorer med ett CAFE snitt år 2025 på 50 mpg i den del som säljs i USA. USAs regler kan komma att mjukna men globalt så kommer avgaskraven att bli mycket striktare ju längre det lider. Fordonstillverkarna försöker ju att gemensamt att spela "den döende svanen" och hävdar samfällt att kraven är omöjliga att uppfylla med dagens teknik men då inkluderar man inte OPOC-tekniken. Inte än. Det blir ett motargument som är omöjligt att bortse ifrån. Billigare, renare och går att framställa i dagens motorfabriker.
Det kan alltså bli ett massivt genomslag och en total omdaning när OPOC kommer ut. Det är en avgörande fördel att de kan framställas i nuvarande produktionslinjer i normala material och billigare än dagens motorer. Vad detta kan innebära för Sintercast om det producerades 24-30 milj OPOC-motorer med deras CGI redan inom 7-8 år vågar jag inte räkna ut. Det kan innebära intäkter på över 100 kr om året per aktie. Det tror inte ens jag men siffrorna talar ett annat språk om nu OPOC kommer och blir en hit.
Jag räknar med en dominoeffekt när väl den första tillverkaren blir känd. Vem vill och vågar sitta på läktaren och passivt tappa marknadsandelar?
Detta är inget skämt
http://autoindustrynewsletter.blogspot.se/2017/01/opposed-piston-engine-work-is-no-joke.html
According to WardsAuto, Achates Power of San Diego, California promises combined city/highway CAFE of 37 mile/gal (6.4 litres/100 km) and EPA fuel-economy ratings of 25/32 mile/gal (9.4-7.3 litres/100 km).
With either fuel, output for this 2.7-litre three-cylinder engine is rated at 270 bhp and 479 lbft (650 Nm) torque. The prototype engine intentionally matches the size of the smallest engine (the 2.7-litre EcoBoost V-6) currently available in the F-150.
TUNG MOTOR OCKSÅ med 9.8 liter slagvolym
http://papers.sae.org/2017-01-0638/
This reduces engine-out NOx along with lower requirement of flowing external EGR and hence reduction in pumping requirement. 1D and 3D-CFD models developed for the analysis are correlated to the 4.9L Achates Power OP Engine dynamometer measured data. The correlated models are used as tools to make predictions for the 9.8L heavy duty engine. Results show that the OP Engine results in a net reduction of fuel consumption with BTE exceeding 51%, as well as meeting stringent emission standards.
2011 sade de att det kom att ta fem år till en motor var färdig
https://www.greentechmedia.com/articles/read/an-engine-that-costs-less-and-gets-better-mileage
det tog sju år om de kommer tidigt nästa år 2018 . Inte illa med bara två års försening  ………….i denna branschen
Nästa nummer av den ledande tidskriften i bilbranschen har ett omslag som kommer att se  ut så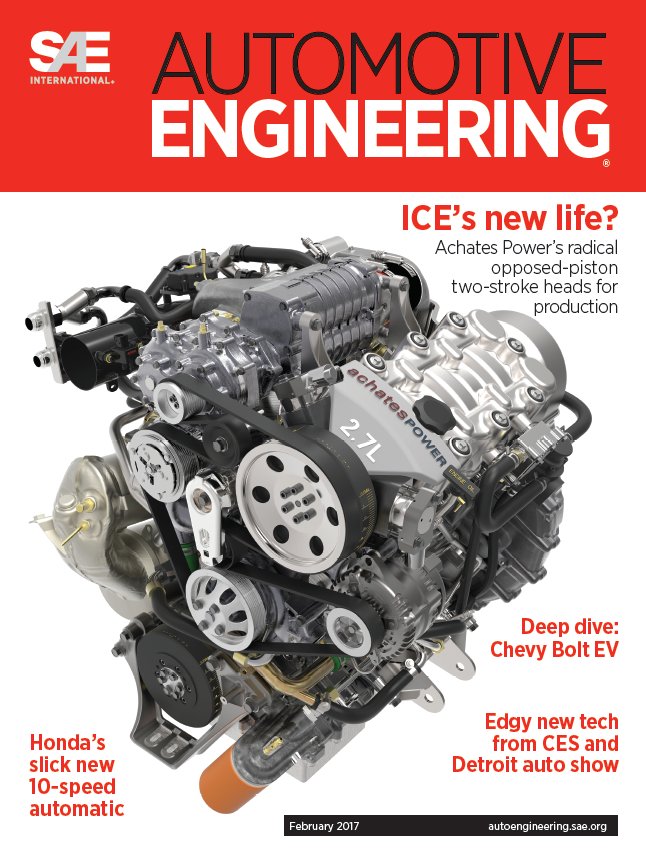 http://www.nxtbook.com/nxtbooks/sae/17AUTP02/index.php#/18
sid 16-29
Det andas förändring med ICEs new life. Förbränningsmotorns nya liv. Det är ett race mellan 50 % av världens största motortillverkare. Om att komma först. När det blir offentligt med den första serieproduktionen av dessa motorer och det visar sig att Sintercast CGI finns i blocket. DÅ kommer kursen att lyfta till goda nivåer. Det är så stort att det är ogreppbart.
Analys och jämförelse mellan tre olika motorer som ALLA har block i CGI 
Motor                                 mpg              hkr             vrid/ Nm /lb/ft
Achates 2,7 l OPOC           37                 270            650          479
RAM 1500 3l V6 diesel     20-29            240             570          420
Fords EcoBoost 2,7 V6      20                 335            515          380
Förstår alla att Achates kommer att bli en smashhit när den dessutom är renare och billigare att tillverka?
Achates säger sig ha produktionskontakter med 50 % av världens största motortillverkare. Vilka fem av dessa ?
This is a list of the 15 largest manufacturers by production in 2015
| Rank | Group | Country | Vehicles |
| --- | --- | --- | --- |
| 1 | Toyota |  Japan | 10,083,831 |
| 2 | Volkswagen |  Germany | 9,872,424 |
| 3 | Hyundai |  South Korea | 7,988,479 |
| 4 | General Motors |  United States | 7,485,587 |
| 5 | Ford |  United States | 6,396,369 |
| 6 | Nissan |  Japan | 5,170,074 |
| 7 | Fiat Chrysler Automobiles |  Italy/ United States | 4,865,233 |
| 8 | Honda |  Japan | 4,543,838 |
| 9 | Suzuki |  Japan | 3,034,081 |
| 10 | Renault |  France | 3,032,652 |
| 11 | PSA |  France | 2,982,035 |
| 12 | B.M.W. |  Germany | 2,279,503 |
Enbart de 10 största står för 60 milj producerade fordon. Ofantliga volymer om man har 50 % av dessa.
---
Mera
https://www.trucks.com/2016/12/30/achates-piston-engine-trucks/
The trucking industry does care about emissions, but is "laser-focused on simultaneously increasing fuel economy" and reducing other costs, said Michael Held, an automotive industry analyst at the global consulting firm AlixPartners.
"Trucking companies will line up" to buy a new type of engine if the manufacturer can successfully validate its savings and reliability and durability claims, Held said.
In heavy-duty diesel applications, Redon told Trucks.com, the Achates design results in a 50 percent to 90 percent reduction in NOx emissions, a smog- and ozone-causing product of fuel combustion.
San Diego-based Achates, founded in 2004 by James Lemke, a physicist and self-described serial entrepreneur, is working with a dozen clients in the commercial and passenger vehicle segments. They represent about half of the world's production of vehicle engines, Johnson said.