Tja , varför inte. Nya länkar lagda till sidan 29 jan 2016. Längst ner
det är denna motorn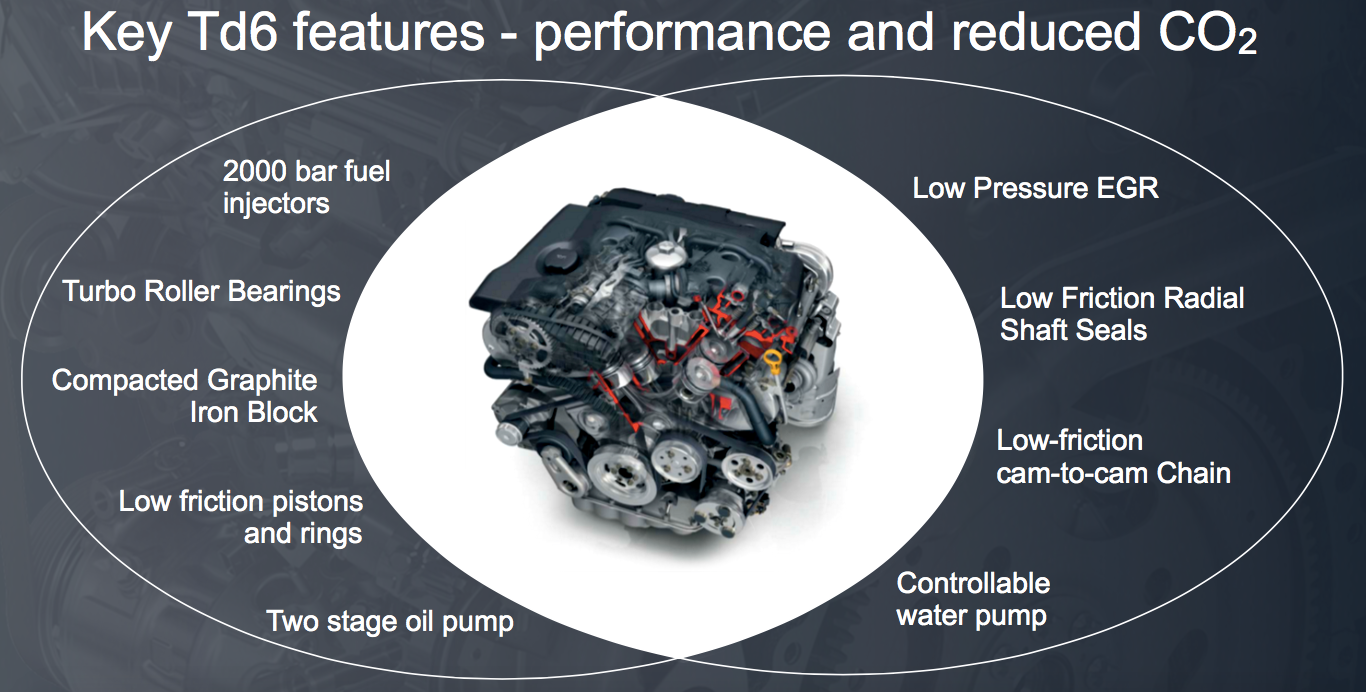 http://truckyeah.jalopnik.com/2016-range-rover-diesel-the-ultimate-suv-finally-has-t-1727842288
Did I mention I love it?
Flera uppgifter på nätet menar att så blir fallet inom ett år, alltså innan slutet av 2016
http://www.autoblog.com/2015/12/17/ford-f150-jaguar-land-rover-diesel-spy-shots/
The engine produces a respectable 254 horsepower and a healthy 443 pound-feet of torque, and is tipped to be mated to the same ten-speed automatic transmission as the new Raptor. That could give the F-150 the kind of fuel economy and muscle it would need to challenge the likes of the Ram 1500 EcoDiesel and the heavier-duty Nissan Titan with the Cumminsengine. With gas prices as low as they are, however, and sales of diesel-powered vehicles lagging, Ford could just be trying to keep up with the competition by offering a light-duty diesel pickup.
With its lightweight aluminum body, the diesel F-150 could even surpass the Duramax diesel-powered Chevy Colorado andGMC Canyon for frugality at the pumps, according to Mark Williams of PickupTrucks.com. He told Autoblog that, "it makes perfect sense for Ford to do a diesel. It seems like everyone is pushing them to do a Ranger, but if they can get the F-150 to push 30 mpg it can challenge the Ram Ecodiesel and even the Colorado Duramax."
och
http://www.torquenews.com/106/ford-f150-could-become-segments-most-efficient-land-rover-diesel
Those sources also claim that this diesel engine will be mated to the same 10-speed automatic that will be used in the upcoming SVT Raptor F150.
In the Range Rover, the 3.0L diesel offers 254 horsepower and 443lb-ft of torque so without any changes, this engine would make the Ford F150 more powerful than the Ram 1500 EcoDiesel in both categories (Ram has 240hp, 420lb-ft of torque). More importantly, when fitted into the lightweight F150 and paired with the 10-speed automatic transmission, this configuration shouldn't have any problems surpassing the Ram's 29mpg highway figure.
——————————-
Ford kan då komma att slå RAM 1500 prisade motor på 3 liter med block i Sintercast CGI
både i bränsleförbrukning, antal hkr och vridmoment.
Eftersom denna kandidat också har CGI i blocket från Sintercast så gör det inget vem som tar hem segern………….
Länkar
http://www.trucktrend.com/news/1512-spied-2017-ford-f-150-diesel/
http://www.leftlanenews.com/spied-ford-readying-dieselpowered-f150-90506.html
http://truckyeah.jalopnik.com/ford-is-testing-the-f-150-with-a-land-rover-diesel-engi-1748573159
NYTT
29 jan 2016
http://www.autoguide.com/auto-news/2015/12/ford-f-150-spotted-testing-diesel-engine.html
http://www.greencarreports.com/news/1102116_ford-f-150-diesel-will-beat-ram-ecodiesel-for-fuel-efficiency-report
http://www.autonews.com/article/20160128/OEM04/160129849/ford-aiming-for-pickup-fuel-economy-crown-preps-diesel-powered-f-150
intressanta inlägg om F-150 kan ses på
http://www.gminsidenews.com/forums/f37/ford-f-150-diesel-will-beat-ram-ecodiesel-fuel-efficiency-report-239297/
http://gas2.org/2016/01/29/ford-will-add-diesel-option-for-f-150/
och nu dessutom
10 mars 2016
http://news.pickuptrucks.com/2016/03/land-rovers-diesel-engine-would-be-at-home-in-a-pickup.html
och då nämner de även att flera Ford Expedition och Navigator hade passat bra med denna väl beprövade motorn.
4 aug 2016
http://www.trucktrend.com/news/1608-the-future-of-trucks-is-with-us-now/
It may be hard to believe, but tucked up under the bonnet of this British SUV is the F-150's future diesel engine. With 254 hp and 443 lb-ft of torque, this 3.0L V-6 outdoes Ram's EcoDiesel by a good margin. With the addition of Ford's 10-speed transmission, we'd also expect the pickup to best Range Rover's 28mpg highway rating.