Det är Cummins som står för denna genom sin motor QSK95
Den lanseras tillsammans med en Siemens elmotor i lok. Miljövänlig lösning för höghastighetståg i USA och senare i övriga världen.
Den är STOR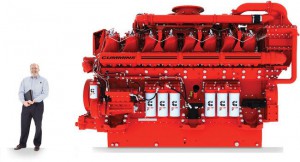 The DV27K engine brings to three the number of industrial engines with SinterCast process-controlled CGI cylinder blocks – the others being the General Electric locomotive engine and the latest Cummins power unit, the QSK95.
http://cumminsengines.com/cummins-ships-first-qsk95-engine-for-the-rail
CUMMINS SHIPS FIRST QSK95 ENGINE FOR THE RAIL MARKET
4400-HP Prime Mover On Its Way To Siemens
COLUMBUS, Ind. (Oct. 2, 2015) – Cummins Inc. (NYSE: CMI) announced today that the first production 95-liter, 16-cylinder QSK95 engine built to a rail specification has been shipped.
The engine, rated at 4400 hp (3281 kW) will be delivered to Siemens® manufacturing facility in Sacramento, Calif., where it will be installed into a Charger® locomotive. The Charger – a diesel-electric passenger locomotive – will be put into service for a five-state, 35-unit initial order with the Departments of Transportation of Illinois, California, Michigan, Missouri and Washington. The Charger locomotives will also power the trainsets for All Aboard Florida.™
Capable of a top speed of 125 mph (201 kph), the QSK95 achieves the highest output of any 16-cylinder high-speed diesel. The combination of Cummins latest-generation Modular Common Rail Fuel System (MCRS) with quad-turbocharging allows the engine to deliver reduced noise and excellent response in a smaller footprint than medium-speed diesels traditionally used in locomotives. Integrated Selective Catalytic Reduction (SCR) exhaust aftertreatment makes the QSK95 capable of achieving the ultra-low emissions required of the U.S. Environmental Protection Agency (EPA) Tier 4 emissions requirements.
"This is a very exciting and important time for passenger rail in North America," said Melina Kennedy, General Manager – Global Rail and Defense Business. "Cummins is pleased to partner with Siemens to bring innovative and dependable new technologies to market.
http://cleantechnica.com/2014/03/27/usa-high-speed-rail-gets-boost-32-train-order-siemens-trains/
De är tunga.
Det är klart att den stora dieseltillverkaren Cummins har fått smak för CGI och de har nu två CGI-motorer. Dels den nya Nissan Titanmotorn  ISV 5.0 liter och nu denna QSK95 för marina och off road bruk.
Cummins Inc. is an American Fortune 500 corporation that designs, manufactures, and distributes engines, filtration, and power generation products.[3] Cummins also services engines and related equipment, includingfuel systems, controls, air handling, filtration, emission control and electrical power generation systems. Headquartered in Columbus, Indiana, United States, Cummins sells in approximately 190 countries and territories through a network of more than 600 company-owned and independent distributors and approximately 6,000 dealers. Cummins reported net income of $1.65 billion on sales of $19.2 billion in 2014