månadsarkiv:
augusti 2021
Ford to build a new 6.8-liter V8 engine in Canada
Det är en rejäl investering som Ford gör. Jag tror att det handlar om en ny bearbetningslinje för CGI
Additionally, Ford will invest more than $110 million in its Windsor powertrain facilities
This "Godzilla Jr." powerplant would be a smaller version of the 7.3-liter V8 currently available in the automaker's Super Duty trucks.
https://www.cnet.com/roadshow/news/ford-6-8-liter-v8-engine-godzilla/
Jag tror att den har ett block i CGI. Varför? Jo den bör bli mindre i sina yttermått så den passar in i flera och lite mindre motorrum. Därför är aluminium uteslutet. Den skall tåla högre belastning vid bränsleantändningen, den skall vara lättare än föregångaren. Den har stötstänger liksom den andra CGI-motorn hos Ford , den 6.7 l dieselmotorn.
Kamaxeln ligger inuti motorblocket vilket gör att motorn kan vara lägre än motorer med överliggande kamaxel som har kamaxeln placerad i toppen, över cylindrarna. I en stötstångsmotor slipper man de mer komplexa konstruktionerna med kamrem eller kamkedja.
"Ford could save weight by utilizing a compacted graphite iron block, like that seen on the 6.7-liter Power Stroke diesel V8. There's cash savings to be had by going the standard iron route."
https://www.allfordmustangs.com/threads/is-ford-going-the-pushrod-route-with-its-new-v8.1090405/
As for the block, word is that it will be traditional grey iron or possibly Compacted Graphite Iron("CGI")
http://www.svtperformance.com/threads/update-return-of-the-pushrod-fords-new-7-3l-engine-is-actually-an-ohv-v8.1160212/
https://www.thedrive.com/news/37374/6-8-liter-windsor-pushrod-v8-coming-to-2022-ford-mustang-f150-report
Dias said Ford's Windsor engine plants will begin producing a new 6.8-litre engine in 2022 for the F-150 pickup truck and the Ford Mustang.
https://windsorstar.com/news/local-news/breaking-unifor-and-ford-reach-tentative-agreement
Stephen Ketterer April 5, 2021 at 7:43 AM
I believe the block is produced from compacted graphite iron similar to the latest EcoBoost motors. This new design is much more durable than the old Windsor or 385-series blocks, as tough as they were.
https://fordauthority.com/2021/03/hennessey-velociraptor-700-2021-ford-f-250-hits-the-dyno-test-track-video/
Från 2018
The First In A Series
Ford's 7.3-liter OHV V8 will reportedly be just the first in a range of pushrod-type V8 engines, which will replace the 6.8L Triton V10, and could spell the end for the 6.2L Boss V8. It's expected to first appear in the Ford F-Series Super Duty for 2020. The block could be cast from either traditional gray iron or Compacted Graphite Iron (CGI), SID297 says. CGI could allow Ford to design a stronger, lighter block than the iron-block 6.2L and 6.8L engines.
https://fordauthority.com/2018/05/ford-to-deploy-pushrod-tech-in-new-7-3l-v8-truck-engine-according-to-a-report/
Kanske runt febr -22 ( men i slutet av 2021 kom nu uppgifter om en start i mars 2023)
https://www.musclecarsandtrucks.com/s650-ford-mustang-production-expected-to-start-in-march-2023-report/
—————————————- 
https://www.drive.com.au/news/2022-ford-f-150-raptor-r-supercharged-v8-pick-up-spied-alongside-ram-1500-trx/
Dessutom verkar den komma som en elhybrid. Det blir klös i en sådan drivlina………..
https://autospruce.com/2022-ford-mustang-hybrid/
—————————-
På AGM 2019 så sade Dawson
The company also expects the production approval of a new SinterCast-CGI petrol engine, potentially marking the company's second passenger vehicle petrol engine application.
https://news.cision.com/sintercast/r/sintercast-to-confirm-new-series-production-and-new-installation-activities-at-annual-general-meetin,c2822894
Time please.
Denna motorn skall troligen ersätta produktionen vid Fords fabrik i Romeo som stänger ner i nov 2022.
Products
| Engines | Production Years |
| --- | --- |
| Ford 5.2L Voodoo Engine | 2015 – present |
| Ford 5.2L Predator Engine | 2019 – present |
| Ford 5.2L Aluminator Engine | 2016 – present |
| Ford 6.2L Boss Engine | 2010 – present |
https://fordauthority.com/2021/05/fomoco-ceo-jim-farley-hints-at-future-ford-u-s-plant-news/
Man menar också att eftersom denna motorn är lägre än en med DOHC så kanske den också passar i Ford GT där man har en vässad 3,5 l V6an med dubbla överliggande kamaxlar. I så fall så vore det toppen för då kan denna nya motorn vara ett alternativ i många modeller.
https://www.autoblog.com/2021/08/11/ford-gt-test-mule-spied/
Som sagt inte bara Ford GT på bilden ovan utan också F-150 och den Ford Mustang S650 som kommer att vara av årsmodell 2023 och som beräknas gå i produkton tidigat 2022. På alla ställen som Fords stora aluminiummotor på 3,5 liter är det möjligt att den lilla V8an på 6.8 liter och med ett tunnväggigt block i CGI kan komma att få plats. Tror jag.
Vi minns ju Sintercasts jämförelse på GIFA 2015 mellan två V6or. Den ena från Mercedes i aluminium och den andra fram Audi i kompaktgrafikjärn. Förutom de små yttermåtten var t o m Audis CGI-block lättare
" Prominent among the cylinder blocks on display is the world's first high volume CGI petrol engine cylinder block, the Ford 2.7 litre V6 EcoBoost, establishing a new benchmark for CGI in petrol applications. The display also included a direct comparison between the Audi 3.0 litre V6 CGI cylinder block and the Mercedes 3.0 litre V6 aluminium cylinder block, highlighting that the assembled Compacted Graphite Iron engine is 125 mm shorter and weighs 15 kg less than the aluminium engine."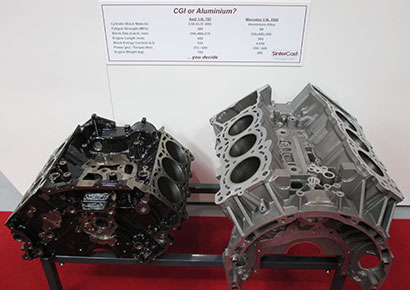 Eftersom den nya Fordmotorn saknar överliggade kamaxlar är den förhållandevis mycket lägre än 3,5 litern från Ford
Om den efterträder 3.5 liters så kan det bli rätt många. Dessa modeller finns den nuvarande 3.5 l V6an i
Applications
375 hp (280 kW) at 5000 rpm, 470 lb⋅ft (637 N⋅m) at 2250-3500 rpm
400 hp (298 kW) at 5000 rpm, 480 lb⋅ft (651 N⋅m) at 3250 rpm

2018– Ford Expedition Platinum Series

400 hp (298 kW) at 6000 rpm, 500 lb⋅ft (678 N⋅m) at 3100 rpm
430 hp (321 kW) at 6000 rpm, 570 lb⋅ft (773 N⋅m) at 3000 rpm
450 hp (336 kW) at 5000 rpm, 510 lb⋅ft (691 N⋅m) at 3500 rpm
647 hp (482 kW) at 6250 rpm, 550 lb⋅ft (746 N⋅m) at 5900 rpm
660 hp (492 kW) at 6250 rpm, 550 lb⋅ft (746 N⋅m) at 5900 rpm