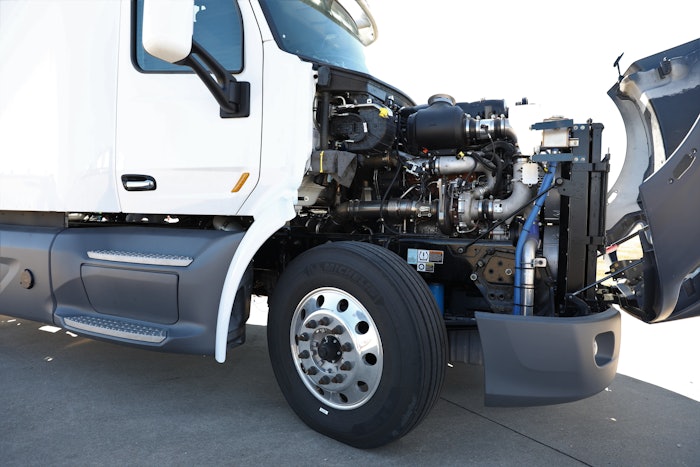 Den är på 10,6 liter , har 400 hkr men ett vrid på hela 2269 Nm ( 1674 lb/ft ) ( 218 Nm per liter slagvolym)
"This engine is rated at about 400 horsepower for this project but the capability is higher than that," Fabien said.
Om man jämför med Scanias nya 16 liter V8 så har denna 730 hkr men 3500 Nm ( 214 Nm per liter slagvolym
https://www.ccjdigital.com/regulations/article/15065487/walmart-fleet-testing-the-worlds-cleanest-combustion-engine
Inga klena formuleringar
Walmart fleet rolling out 'cleanest combustion engine in the world'
Tidigare inlägg om Achates
https://www.thedrive.com/tech/40617/this-10-6l-three-cylinder-diesel-truck-engine-beats-emission-targets-could-run-on-hydrogen
It's now being tested in a Walmart fleet truck, which could pave the way to mass adoption.
"We want to pull together a consortium of companies and some engine makers," Van Amburg said. "But we need to move it into a rapid piloting stage — move from the demo stage to pilot."
https://www.carthrottle.com/post/a-new-106l-two-stroke-diesel-engine-has-3-cylinders-and-6-pistons/
https://www.financialexpress.com/auto/commercial-vehicles/worlds-cleanest-combustion-engine-meet-achates-10-6-litre-3-cylinder-diesel-motor/2254914/
What if we told you that a new 10.6-litre, 3-cylinder diesel engine is in development by Achates Power and the company says that this motor is the "World's cleanest combustion unit". Less smoke, more fuel-efficient and higher power. On the dyno, this engine hits 440hp of power and a massive 2372Nm of torque.
https://www.autoweek.com/news/technology/a36068845/opposed-piston-engines/
I learned all of this during a webinar put on by Calstart, a consortium of 280 companies aiming to make cleaner air through more efficient transportation. The webinar covered medium- and heavy-duty trucks, and Calstart was encouraging companies to consider the opposed-piston engine for their trucks.
Nytt aug 2021
Vi vet att den OPOC-motor som Achates gjorde till en F-150 var med block i CGI.
Nu vet vi också att den motor som Achates och Cummins gjort för användning i US Army i tanks är med block i gråjärn.
https://twitter.com/JonHawkes275/status/1422464282269265925/photo/2
Ännu har man inte sagt vilket material den lastbilsmotor som man har i fältförsök har i blocken.
---
Nytt i sept 2021
https://www.truckinginfo.com/10152903/where-to-now-for-diesels
"Some people ask why we continue investing in internal combustion engines when for sure they're going to go away. But I think it's going to be exactly the opposite. There's going to be a lot of investment in the internal combustion engine because it cannot go away anytime soon."
https://www.autoevolution.com/news/examining-the-low-emission-106-liter-opposed-piston-engine-from-achates-power-170377.html
A test engine has been running since last July in a Peterbilt 579 and, this summer, Walmart has been using it daily with encouraging results. It's still under development, but we can expect it to go into production in the following years.